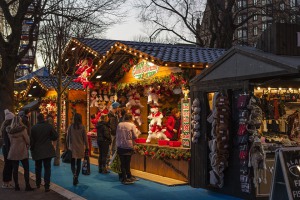 As the holidays approach, Paris is getting ready to immerse herself once again in the magical atmosphere of the festive season. Christmas lights sparkle throughout the capital, the display windows of the department stores spring into enchanted life and Christmas markets pop up everywhere. It's all waiting for you!

Parisian shop windows offer scenes of enchantment
Anticipated with the greatest impatience, the Christmas display windows of the Parisian department stores add their own special magic to the spectacle that is the capital at the end of the year. These prestigious establishments vie to come up with the best and most original ideas and designs, delighting everyone who is still a child at heart. Parisians and tourists alike have participated in the tradition of strolling along the Boulevard Haussmann to gaze enraptured into the Christmas windows of the department stores for almost a century. In mid-November, animated figures and charming scenes spring to life behind the glass, offering a glimpse into a wondrous Christmas world.
The City of Light shines brightly
The aroma of roasted chestnuts wafts across the pavements as the capital is lit up from the early hours of dusk well into the evening. The Parisian night is made glorious by a shimmering of constellations and a shower of shooting stars along the major arteries of Paris and in more than 150 other streets. Whether in the Champs-Elysées, at the Place Vendôme, Avenue Montaigne, Bercy-Village, Faubourg Saint-Honoré or Montmartre, her illuminations make Paris truly the City of Light and attract visitors from all over the world.
During your stay in the Latin Quarter you can admire the Christmas lights of Paris as they transform the city. Then take a walk to the Christmas markets that flourish throughout the capital. You'll find local produce and handicrafts and a warm and welcoming atmosphere enhanced by the presence from time to time of an old bearded man clad in red and white...
******
For more information :
- Christmas Windows
- Christmas Markets
---
BW Quartier Latin, a 3-star hotel at the heart of Quartier Latin