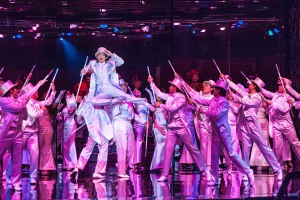 As we move closer to the end of the year it's only natural that we should feel the urge for a little light entertainment, sparkle and fun. What could be more glamorous than an evening in one of the legendary Parisian cabarets? You'll be spoiled for choice with the Lido, Moulin Rouge and Paradis Latin!
The Lido; dancers famous all over the world
It's on the celebrated Champs-Élysées that you'll find the Lido and its superb entrance. Book your seat for an exceptional evening at one of the Lido's spectacular revues. Admire the sheer perfection of dancers known around the world for their beauty and talent.
The Moulin Rouge; the rascal spirit
With its illuminated windmill adorned with sparkling sails a noted landmark on the Avenue Blanche, the Moulin Rouge proudly brings good cheer to the Pigalle district. Located at the foot of the hill of Montmartre, this legendary venue saw the birth of the famous French Cancan and welcomed Toulouse Lautrec for wild nights. Come and soak up the magic of the place while enjoying a show brimming with colour, light and sensuality.
The Paradis Latin; pride of the Left Bank
The Left Bank of the Seine and its lively and historic 5th arrondissement is home to the Paradis Latin and its beautiful dancers. Indulge yourself in spectacle and champagne in this historic Latin Quarter cabaret. After a fabulous evening you'll be delighted to return to the peaceful haven of your hotel, the Best Western Quartier Latin, located a short stroll from the Paradis Latin. Benefit from the experience of a large hotel group, while enjoying a friendly, welcoming atmosphere and a comfortable, spacious and beautifully decorated room. Book now!
******
For more information :
- Lido de Paris
- Moulin Rouge
- Paradis Latin
---
BW Quartier Latin, a 3-star hotel at the heart of Quartier Latin