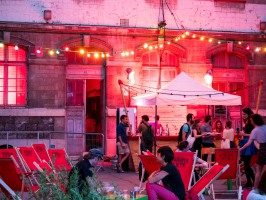 During the summer season, Paris dresses in her festive finery and offers a multitude of events to give unforgettable moments to Parisians and visitors alike. Our focus this time is on two major festivals of the Parisian summer season, Paris Summer Festival and Paris Plages. Treat yourself to a summer getaway in the capital and discover these two exceptional events!
Paris Summer Festival; the best of contemporary creativity
From July 16th to August 4th, all Paris becomes a cultural melting pot of outdoors entertainment and cultural stimulation! On the programme are magnificent concerts, spectacular dance and theatre performances, a travelling circus, dazzling magic and much more. Thanks to the Paris Summer Festival you can catch shows featuring the most brilliant and innovative performers of our time. These take place in various venues throughout the city, from the conventional to the distinctly unusual, and are mostly free of charge. Amongst the big names featured in the 2018 edition you'll find the choreographer Olivier Dubois, the playwright Joel Pommerat, Luke Jerram and his multidisciplinary artistic talents, and the incredible performers of the Galapiat Circus. Prepare to be impressed, amazed and, above all, entertained.
Paris Plages; seaside atmosphere and good humour
If you have a fondness for both Paris and the relaxed atmosphere of the seaside, then you'll fall in love with Paris Plages (Paris Beaches)! Every year this festival of seaside resort fun and relaxation brings summer activities, events, sports, and games of petanque to the centre of Paris! From July 7th to September 2nd you can enjoy free swimming in floating pools moored in the Bassin de la Villette, with paddling pools for the kiddies. However, if you simply want to relax, you need only stir from your deckchair or sunbed to grab an ice cream, a cocktail or a sandwich from the various pop-up stalls, should you wish. Many varied activities are also organised for children and teenagers, including workshops, contests and even storytelling. Paris Plages offers great entertainment and fun in the sun for all ages. Experience the seaside atmosphere of the most beautiful city in the world this summer!
The Best Western Quartier Latin; your hotel of choice
For your stay in Paris it's important to choose a hotel that is pleasant, comfortable, and especially very central. Located in one of the most charming areas of the capital, the Best Western Quartier Latin combines these strengths. The Left Bank's historic and authentic 5th arrondissement, with its cobbled streets, buzzing nightlife and friendly locals, is well served by public transport, making it easy for you to travel wherever you wish throughout the capital. When you opt for Best Western, you choose a level of quality that is guaranteed by the demanding standards of a large hospitality group. Our Latin Quarter hotel is located in a charming Haussmann-era building that is so typically Parisian.
Photo credit : Paris Summer Festival - Facebook Page