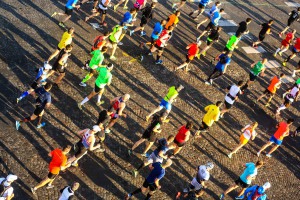 Sports fans and lovers of incredible challenges, it's time to plan your stay at the Best Western Quartier Latin in Paris this spring! This is when the capital hosts two exciting and highly demanding races: the vertiginous Eiffel Tower Vertical and the prestigious Paris Marathon. Grab your running shoes!
Eiffel Tower Vertical, the unforgettable challenge
Unusual and demanding, the Eiffel Tower Vertical race allows competitors to push themselves to their limits while seeing the capital from every angle. This is a time trial race to the top of the world's most visited monument. Head to the foot of the elegant Iron Lady on March 15th, 2018, slip into your running shoes and prepare to race up the 1665 steps of the Eiffel Tower!
Paris Marathon, the world-famous race
On April 8th, 2018, you have the opportunity to see the most beautiful city in the world by pounding its asphalt for over 42 kilometres! Every year, the Paris Marathon brings together passionate runners and cheerfully friendly supporters to enjoy a thrilling sports event. The exceptional course of this legendary race invites you to see the city in all its aspects, from the Bois de Vincennes to the Avenue Foch, from the Bastille to the Rue de Rivoli, without forgetting, of course, the Avenue des Champs-Élysées.
The Best Western Quartier Latin, comfort and simplicity
In the heart of the 5th arrondissement, on the Left Bank of Paris, the Hotel Best Western Quartier Latin welcomes you for a peaceful and relaxing night before your sports challenges. Its rooms are spacious, quiet, comfortable and perfectly equipped for your well-being. You benefit from free WiFi throughout the hotel, as well as access to the hammam, so you can take it easy after facing your challenges.
Photo credit : Official Website for the event