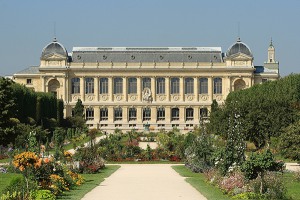 Spring is finally here! It's the perfect time to see buds come into bloom and take a walk amidst the incredible flora of the Jardin des Plantes in Paris. Then, while you're in the vicinity, head to the stunning Museum d'Histoire Naturelle, adjacent to the Jardin, and you'll enjoy a day that is both beautiful and educational! And to top it all off, the Hotel Best Western Quartier Latin is just a few minutes away.
Jardin des Plantes, a beautiful botanical garden in the centre of Paris
The Jardin des Plantes is located in the 5th arrondissement, a district on the Left Bank of Paris that is historical, student-oriented, very lively and chic. Admission to this beautiful botanical garden by the Seine is completely free, giving you a marvellous opportunity to admire a rainbow of flowerbeds, trees from around the world, and exotic plant life flourishing in magnificent greenhouses. Rose lovers will delight in walking through the rose garden, which boasts no less than 170 different varieties. In addition, the ecological garden gives an insight into what the Parisian landscape would be like if nature, without the intervention of humans, reasserted her dominance. Fascinating!
The Museum of Natural History; science made accessible
An epicentre of scientific research, the Museum d'Histoire Naturelle is located next to the Jardin des Plantes. A visit to this museum, with its huge collection of preserved specimens, will delight the whole family. You will be amazed by the ethnographic objects, birds, insects, fish, amphibians and, of course, the dinosaurs and other fossils. For your Parisian stay, choose a hotel ideally located in the central and elegant 5th arrondissement. The Hotel Best Western Quartier Latin welcomes you in a simple but welcoming setting.