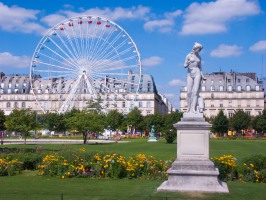 The summer has hardly shown its face but already the urge to take lunch in the open air and enjoy some family fun is upon us. During your stay at the BW Quartier Latin, why not have a picnic in the Jardin des Tuileries and then visit the park's very own carnival, which is open from June to August to the delight of young and old alike?
Picnic blankets and coolers on the grass
The Jardin des Tuileries, a delightful French park that connects the Louvre Museum and the Place de la Concorde, is the oldest green space in the capital and one of the largest. It is also one of the most widely appreciated due to its beauty and the marvellous views it offers towards the Arc de Triomphe and the Grande Arche de la Défense in the distance.
No wonder tourists and Parisians choose this park for a picnic with family, friends or just with their loved one. Picturesque and romantic to perfection with its serene pools, expanses of lush lawn, shade-giving trees and sculptures by Rodin, Maillol, Dubuffet and Giacometti, the Jardin des Tuileries offers the ideally relaxing surroundings in which to enjoy your salad and roast chicken. Don't worry, however, if you forget your picnic basket because refreshments are available in the park from various snack food stalls ...
The funfair offers delicious moments of childhood
Another good reason to visit this park is to partake of the many delights of its traditional funfair, a family-friendly feast of fun that opens from June to August. Return to the simple pleasures of childhood for an afternoon and enjoy the 80 attractions that compete for your attention, foremost among which is the huge Ferris wheel! The rides also include a beautiful carrousel from the early 1900s that's a real head-turner. Then there's the waffle shacks, plus stalls selling candy floss, toffee apples, doughnuts and ice cream, the aromas of which will make your mouth water as they evoke those wonderful memories of carefree childhood ...