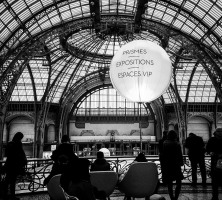 In October and November this year Paris offers events to delight photography enthusiasts, equestrian aficionados and chocolate lovers. If you fall into one or more of those categories, don't forget to mark the following dates in your calendar!
Paris Photo, a prestigious fair at the Grand Palais
From November 9th to 12th, 2017, professionals, collectors and amateur photography enthusiasts will get together at the Grand Palais, a world-famous cultural centre of the City of Light. This is the 21st edition of the world's largest international art fair dedicated to photography, bringing together more than 180 galleries and publishers to focus on a complete panorama of the history of photography. Visitors can enjoy historical, contemporary and modern works as well as previews of forthcoming books by noted photographers. This photography fair with a global reach will be built around exhibitions, awards ceremonies, signing sessions and talks presented by artists, critics, curators and historians. The in-depth and extensive programme of the event is made possible by the support and participation of its partners: J.P. Morgan Chase Art Collection and BMW. On the same dates, a series of photo exhibitions will take place in different cultural locations throughout Paris.
The Salon du Cheval; the leading equestrian event in France
From November 25th to December 3rd, 2017, the 46th Salon du Cheval will be held at the Paris Nord Villepinte Exhibition Centre. Enthusiasts of equestrian sports and professionals working in the sector will be able to admire different equine breeds (more than 2,000 horses), and thrill to the equestrian competitions, the meetings and the championships followed by the awards ceremony. This major indoor equestrian competition in Paris will again focus on five classic disciplines: dressage, harness, jumping, horse-ball and western riding. You can also meet horse breeders and visit a space dedicated to animal well-being and health.
The Salon du Chocolat – the unmissable trade fair for chocolate gourmets
The 22nd Salon du Chocolat will be held at the Porte de Versailles Exhibition Centre on the edge of Paris from October 28th to November 1st, 2017. An event catering to professionals and the general public alike, this show covers 20,000 m² of exhibition space on two levels to present all aspects of the world of chocolate. More than 700 participants have already registered and the organisers expect 100,000 visitors. Shows, chocolate fashion parades, demonstrations and workshops are on the agenda. Considered a national and international brand, the Salon du Chocolat has created a global network, based on four continents, made up of professionals in the chocolate and cocoa industry.
Make sure of your accommodation for the period of the above events by booking a room in a 4-star hotel, the Best Western - Quartier Latin. Ideally located in the heart of Paris (5th arrondissement) this hotel is renowned for its comfortable rooms at affordable prices.
Photo credit : chikaomg