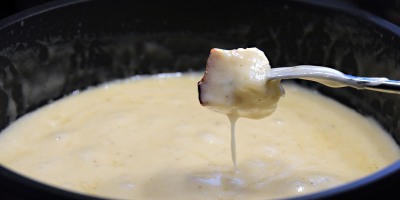 During your winter stay at the Hotel Best Western Quartier Latin, you'll want to get acquainted with the pleasures of fondue. So, just for you, we present a selection of restaurants not far from the hotel where you can enjoy one of the favourite winter dishes of the French...
Heureux Comme Alexandre (13 Rue du Pot de Fer, 75005 Paris)
This convivial eating place has been popular since 1987 and the rustic decor, red velvet banquettes and warmth of the welcome are just part of the reason why. As soon as you enter you feel good and the aroma of melted cheese mixed with that of white wine whets your appetite. The covered terrace offers the more adventurous an even better experience. But it's the authentic Savoyard fondue that brings customers flocking to Alexandre. Generously peppered and scattered with croutons, accompanied by sautéed potatoes with herbs and salad, and all for just € 20, it is utterly irresistible.
L'Assiette Aux Fromages (25 Rue Mouffetard, 75005 Paris)
A few steps from the Pantheon, in the middle of the student quarter, you can find L'Assiette Aux Fromages, a tribute to the cheese tradition of France, the country of cheese. If it's true that there is a French variety of cheese for every day of the year, this pleasant and warmly welcoming restaurant certainly contributes to that impression, offering several variations on the great cheese specialities of the mountain regions. From tarte au Reblochon to tartiflette, it's winter sports manifested in a meal. Of course, it's the fondue that is firmly in the spotlight, but the all-wood décor, evoking the feel of an alpine chalet, helps to set the scene by immersing you in an atmosphere of authenticity. Soak it up, get warm, tuck in and enjoy!
Saveur de Savoie (83 Rue Mouffetard, 75005 Paris)
Located on the Rue Monge, close to the Pantheon and not far from the Sorbonne, the Best Western welcomes you to the famous Latin Quarter, the district that the students of the great Parisian places of learning have long made their own. The iconic thoroughfare of this renowned area is the Rue Mouffetard. Here the fun never stops and there is a vitality in the very fabric of the place that the students share with tourists and casual passers-by. Bars sit alongside diverse restaurants and people of all kinds roam the cobblestones of this old, bustling street. When the time comes to eat, various menus compete for your attention, while restaurant owners, standing in doorways, warmly invite you to step inside and take a seat. The Saveur de Savoie restaurant embodies the ambience of the district! Here you'll find typical Savoyard decor with skis on the walls and wood everywhere, as the outside chill is quickly forgotten, and the delicious fondue awaits. Pure delight!