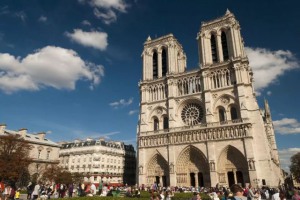 The Hotel BW Quartier Latin is ideally located in the heart of the Latin Quarter. A short walk from the hotel stands the majestic Notre-Dame de Paris Cathedral, the most visited religious building in France. Discover the breathtaking interior of this architectural wonder and climb the towers to enjoy an incredible panorama of Paris.
A masterpiece of Gothic architecture
Located in the midst of the Seine, on the Ile de la Cité, Notre-Dame Cathedral is an astonishing building that was made even more famous by Victor Hugo's classic novel, The Hunchback of Notre Dame. The history of this masterpiece of Gothic architecture began in 1163, when the first stone was laid by Pope Alexander III, who was then living in Sens. Its construction, however, was not completed until the 18th century. This architectural masterpiece is 130 metres long and has a roof height of 43 metres. Flanked by towers and a 96 metre-high spire, Notre-Dame Cathedral is home to beautiful stained glass windows and three beautiful rosettes of almost 19 metres in diameter.
From the top of the towers ... a unique panorama of the capital
Seen from the outside, the cathedral offers an equally remarkable sight as your gaze lingers on the portal stones, statues, bas-reliefs and famous gargoyles. We recommend that you complete your visit by visiting the Towers. After having ascended the 422 steps leading to the top, valiant climbers are rewarded by a stupendous view of Paris.
Before you reach this Holy Grail, you will have negotiated three stages revealing the high hall and its superb gothic architecture vaulted with ogives, the gallery of chimeras where you can examine the gargoyles more closely, the belfry and the bells. To avoid waiting to climb the towers, we recommend that you book your time slot in advance.
Stay at the BW Quartier Latin to discover the majestic Notre Dame Cathedral!