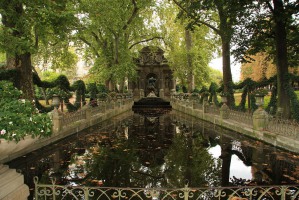 If you're planning to spend a few days of your summer holiday in Paris, you'll definitely want to stay at the Hotel Best Western Quartier Latin. Thanks to its ideal location, our hotel is only a few minutes away from several places of interest, including the Jardin du Luxembourg and the Serge Gainsbourg House.
Architecture and landscape around the Medici fountain
The Jardin du Luxembourg offers the opportunity to enjoy a wealth of nature, art and architecture in the heart of Paris. Designed and created in 1612 at the behest of Queen Marie de Medici and inspired by the tree-lined Boboli Gardens in Florence, Italy, this public park is located on the southern edge of Saint-Germain-des-Prés and the Latin Quarter, Rue de Medicis and Rue de Vaugirard. Covering 25 hectares, it is a beguiling blend of geometric landscape architecture, formal garden, herbarium and outdoor sculpture gallery and is subdivided into French and English style areas. In addition to the trees carefully arranged in the form of a geometric figure, an orchard with a variety of old apple trees and the Grand Bassin pond, a major attraction is the remarkable Medici Fountain, dating from 1630. You can even learn about beekeeping, as the park has its own apiary. Add to the mix the sumptuous orchids, the rose garden, the more than a hundred statues placed here and there, not to mention the many activities for children and adults, and you can see why the Jardin du Luxembourg is one of the major attractions of the capital.
The House of Serge Gainsbourg, a focal point of inspiration
It is often said that the artist survives eternally through his work. If so, then Serge Gainsbourg is one of the monuments of French music that best proves this assertion. Although the singer and songwriter died in 1991, the walls that witnessed his last 22 years of life, at 5 bis Rue de Verneuil, still remain a symbol of his immense talent. The exterior façade of the Maison de Serge Gainsbourg is a riot of street art, covered in numerous cries of distress, poems and other declarations of love for the musician. Every so often the graffiti is painted over but within a few days the walls are again assailed by heartfelt words and images. Inside, you will be able to penetrate the unusual world of the man who gave us a reggae version of La Marseillaise and be dazzled by his collection of books, trinkets and works of art, all left in their original locations by his daughter, Charlotte Gainsbourg, now owner of the premises. Something of a shrine, this house will make you want to discover the man behind the artist Serge Gainsbourg. Perhaps you'll also try your hand at some street art!
photo credit : Grzegorz Jereczek
~oOo~